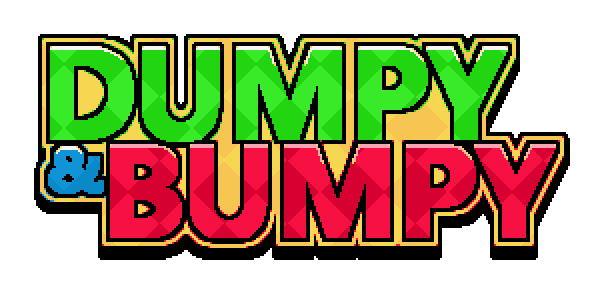 Dumpy & Bumpy
Update 2.0.3.3 (aka The "Spit-Shine" Update!) is now LIVE!
I hope you're ready for some peak Dumpy & Bumpy!! Lots of really great things in version 2.0.3.3!

It's my intention to bring you absolutely the best experience while you're Dumpin' & Bumpin', so I've partnered up with Screenwave Media to make that possible! This new update focuses heavily on both the visuals and the feel of the game.

Here's a detailed changelog:
A partnership with Screenwave Media is now reflected in new splash screens.

The resolution of the game has been fixed to be 16:9 (instead of 16:9.6, which was a dumb oversight from early on in development).

As a result of the above change, a number of UI elements have been adjusted.

Spike Sliders no longer start moving on the first frame of detecting the player- instead, they shake for 12 frames before moving, allowing you to walk past them within a 16px gap. This was done because they were triggering on 4-6, despite attempting the level as intended. Spike Sliders were never supposed to slam toward you if you enter a portal in their path, but adding a delay fixes this.

Along with the spike slider change, a bug where they could teleport through a portal when stationary has been fixed.

"PAR" times have been relabeled to "PRO". They were never meant to be an indication of how quickly a stage should casually be beaten, but rather, how quickly you should be able to beat it if you're familiar with the puzzle and skilled in the mechanics.

PRO time for 8-5 has been increased by 1 second (as it would be impossible to achieve now with the slider's functioning differently).

The timer for levels no longer starts as soon as the level starts. Instead, it waits for the player to make an action first. I had intended on adding a pause feature inside of the levels, however structurally the game isn't set up for that - it would require a pretty in-depth rewrite of every motion-based action and a lot of testing after each change (SORRY). This is a happy medium, and it kind of suits the game well!

A Spicy Tip has been added to 2-6 mentioning that the timer won't start until you move.

A Spicy Tip has been added to 2-9 mentioning that Spike Sliders can start on redirect arrows.

Level 1-10 and 4-6 have been renamed to better reflect the solution.

Player 2 has full menu control. Now, they can also restart or go back to the overworld from levels. Sincerest apologies if this annoys some older siblings.

Along with menu control, Player 2 can now select levels from the overworld.

World maps have been adjusted/cleaned up, and in some cases include additional animation and polish. Lots more flare.

World 3 has been completely remade, as it was far from my favorite.

Level 1-8 has been adjusted to be less boring for two players. While not every level is going to be super engaging for multiplayer, I felt that it wasn't a good first impression of the mode.

Fonts have been expanded to support additional languages.

Strings have all been externalized to allow for easier localization.

Fixed an issue where the description bar in the multiplayer menu didn't move off-screen when starting a battle.

Removed the 2nd Spike Slider from 4-10.

Spaced out the runway for the Spike Slider in 4-10.

Analog input has been added. The left analog stick just acts as a second D-Pad.

An issue with Ghosts not properly seeking a new target after their original one is defeated has been fixed. They now seek out the other player once their original target has been ghosted.

In line with the above fix, Ghosts no longer seek the coordinate where their target was picked up by another player. Instead, they'll seek out the player that picked them up.

Originally, teleporting into a World (World 1 to World 2 for example) would show the label of the return portal. This was confusing, since the first thing you're greeted with is a World name, and then the return portal label above showing the previous world's name. To fix this, I've made the portal you start on when arriving in a World not show a label until all players have left the portal and subsequently walked on it again.

Due to the overwhelming urge to make Dumpy & Bumpy talk to one another when playing Co-Op with the attack button, puzzles with the "No Bites" objective will no longer automatically fail when you bite. Instead, the bite no longer does damage!

Fixed a bug where a spawning player in VS Mode would only destroy one block, thus obscuring their spawner instead of all of them.

Fixed a small quirk where the player's momentum after selecting a level while sliding on ice would carry over after leaving/winning the selected level. Only applies to World 7.

Fixed a major bug where a player could use another player to clip through a wall, and then proceed to destroy the wall by picking them up.

As a result of the above change, pushing players has been refined. Pushing no longer affects momentum, and instead is a nudge. The visuals are also less shaky.

Tiles that bounce out of bounds will no longer bounce back and forth infinitely. Instead, they will explode if they try to bounce out of bounds more than once.

Credits have been updated to reflect Screenwave Media, and display positions have been adjusted slightly to be more centered.

I really appreciate all the feedback and support that Dumpy & Bumpy has received since its launch! Be sure to join our Discord Community for more DUMPIN' and BUMPIN'

- Programancer