Simon Quest: Transylvania Adventure
A downloadable game for Windows
Simon Quest: Transylvania Adventure is a parody/homage to NES ClassicVania and other NES titles from the era.

The titular hero, Simon Quest, has just arrived in Transylvania only to discover his vampire hunting rival, Stan Helsing, has already slain the evil Count Dracula. In order to reclaim the glory that should be his, he journeys across Wallachia to gather what he needs to resurrect the dark count piece by piece and kick his ass himself!
Special thanks to:


Jordan Chewning (@Jordizzle) for coming up with this game with me and doing amazing art


Jonathan Holmes (@NonTrotski) for his support and amazing promotional/box art featured on this page


Tobias (@MisterFoxInc) for doing some QA and finding bugs
As always, if you want to help support development of this project, feel free to donate when you download, or visit my Ko-Fi!
Otherwise, I just appreciate you checking this project out!

DEMO 1: PROOF OF CONCEPT NOTES
The first demo is a proof of concept for the project. There are a few bugs/oddities. Here is a list of known ones:

Enemy spawners may respawn enemies if you've activated a textbox/paused.


NPCs may teleport to a building if spoken to while running for safety at dusk.


Respawning inside of the mansion may cause spawners to not trigger when you first appear, leaving the current room void of candles/enemies.


Items not normally accessible in the demo without the use of a name entry cheat may not function as intended/are a WIP. The Fishing Rod for example still needs work.


For some users, activating a textbox or pausing may create some sprite ghosts for any active objects for a couple of frames.


Options menu, and Map menu does nothing at the moment.


In the Spirit Woods, there are some menu related exploits that will be corrected.


Some music tracks loop strangely. Easy fix, just haven't prioritized it.


Enemy money drops are higher than intended, but I don't have a proper drop randomizer implemented yet.


Mansions are harder when you enter them at night. The current result isn't as I intend it, but I'm indecisive if I want to turn that into a feature or not.


Some background elements don't function as intended yet. For example, the moon may jump positions, or not appear at all.


Lugosi Path is unfinished, but I had a basic framework that I wanted to implement anyway.
It's important to remember that everything in this demo is a work in progress and is subject to change! Some areas are blocked off, and some features are enabled by default for demonstration purposes.
There is controller support, however if you're using a keyboard this is the layout:

A = Start


S = Select


D = A


F = B


Up, Down, Left, Right = Dpad
Download
Click download now to get access to the following files:
Simon Quest: Transylvania Adventure DEMO 1
29 MB
Comments
Log in with itch.io to leave a comment.
Does the game or will the game support fullscreen, 2x, 3x ?
That's been implemented as of last month, however I am waiting to upload a new demo until after I have some more story based content to show
Good man.
Also, is the slide move really suppose to go that far? It seems ridiculous to slide half way across the screen so fast when the character walks so slow. I'd say tone it down a lot and maybe give a powerup that lets you go farther.
Yes- while the slide is on by default in the demo, it's not part of the normal game. It's intended for a game mode that gives you the "Ninja-Esque Bandanna", which gives you sliding, backflips, etc. There are various gameplay modifiers that change how Simon attacks, moves, jumps, etc and provide a more tongue and cheek experience.
I find your work simply magnificent <3
Stuck at the spirit woods...
I'm pretty sure it's either not working at all, is at least a 6 arrow combo, or is a 5 arrow combo that doesn't end in right. Don't ask me how I know, lol.

Go left from Spirit Woods and you'll exit it. It's a looping room with no current combination to exit (there's nothing past it yet)
Options cannot be chosen via keyboard, it always starts new game and offer saveslot.
From known issues:

Options menu, and Map menu does nothing at the moment.
It's not featured at the moment. Just a placeholder for when it's available. (Part of the issues list on the game page)
Bug: the text in the textboxes remain so that when you talk to a new person, the new text overlays on the old text. Have to close the game entirely to get an old conversation to go away.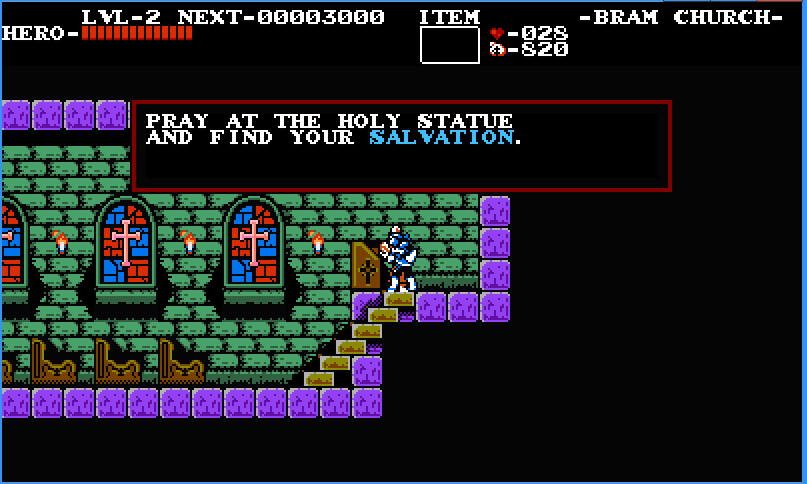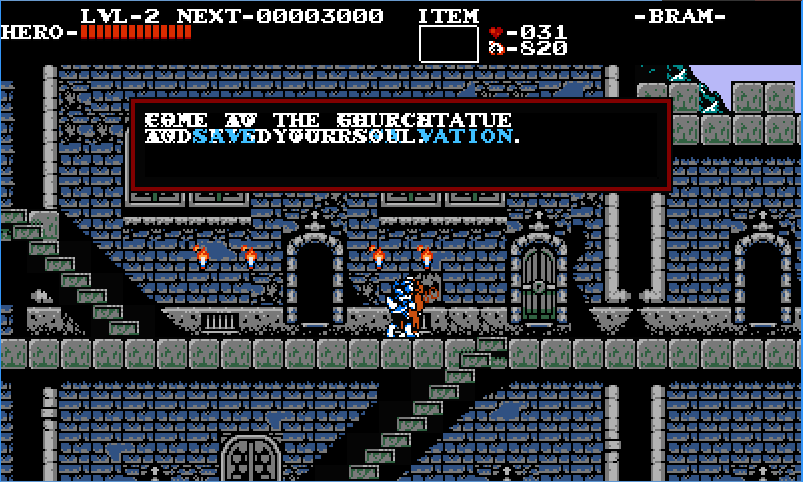 Love the game so far. Youve done some great work!
That's actually a result of the surface issue- not entirely sure why it happens for some people and not others sadly. I had implemented a fix when I originally discovered it, but I'll keep looking! Thank you
Bug: In the screen just right of town, at night, I fought a skeleton, a bone got thrown at me. I lost the last of my HP during that hit. I clipped somehow through the ground (diagonally hit a corner?), fell through the terrain, then fell forever. The screen then kept scrolling right to the far edge, and stopped at the scroll-to-next-area boundary.
Got a soft lock, and could not activate the UI at all to try to reset myself, had to escape out of the game.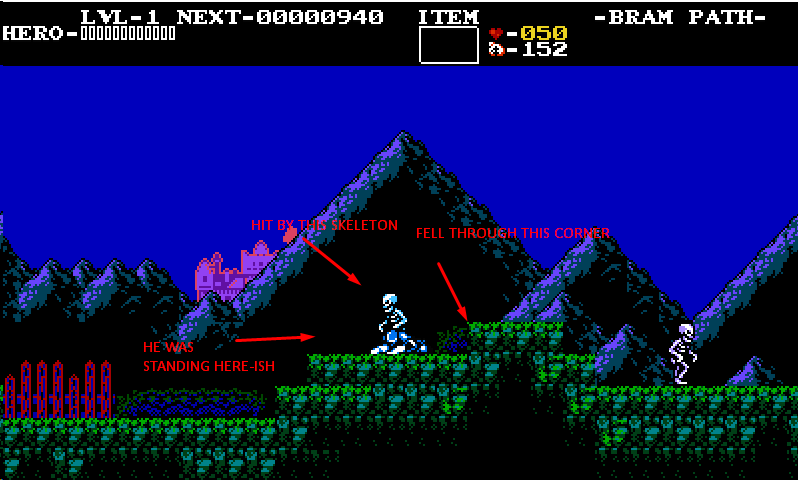 The specific control I was suppose to press to activate the statue wasn't obvious to me, nor was the hitbox. It wouldn't be NES-authentic, but it might be useful to have a "press <xyz>" prompt on some of these things.